Hair care
Banana and avocado mask for dry hair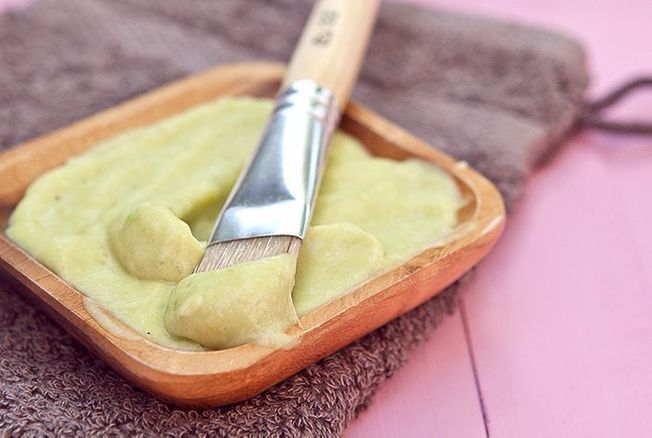 Banana and avocado mask for dry hair, Thanks to their richness in starch, proteins, and fatty acids, banana and avocado can repair damaged hair. Find out how to integrate them into your hair routine with this natural homemade mask concocted by Sylvie Hampikian, author of the book "I make my cosmetics" (ed. Terre Vivante)
Five minutes. This is the time it will take you to concoct this natural treatment against dry and damaged hair. Find out how to revive your lengths with a banana and an avocado!
Banana and avocado mask for dry hair
Sylvie Hampikian's word
Here are two fruits that complement each other well: one provides starch, the other protein and fatty acids. Their association will gain, nourish and repair damaged hair. You can do the same with banana or avocado alone, but this mixture is richer, more balanced, and therefore it is the most effective.
Difficulty: medium
Storage: im8
Ingredients of banana and avocado mask
1/2 to 1 banana
1/2 to 1 avocado
Half of each fruit for short to medium length hair, all for long hair
Equipment
Knife,
Blender fork or blender
Towel
Recipe of banana and avocado mask
Peel a ripe banana and avocado.
Cut the flesh into cubes and simply go to the blender mixer. If you don't have a blender, simply mash the flesh with a fork and knead carefully to obtain a homogeneous dough. If there are pieces left, rinsing may be more delicate (pass through a Chinese if necessary).
Distribute the preparation on damp hair, previously washed, and knead with your fingers to make it penetrate well into the hair.
Bundle the hair over the head and wrap the head with a towel, warm if possible, tied in a turban.
Leave on for 10 to 15 minutes, then rinse thoroughly with lukewarm clean water.
Alternative: the express repair mask with coconut cream
Here is a very easy Indian recipe Banana and avocado mask for dry hair. Simply apply coconut cream (Suziwan brand for example) or a thick mixture of coconut milk powder moistened with a little water to get the consistency of a cream. Leave on for 5-10 minutes, then rinse thoroughly with warm, lukewarm water.