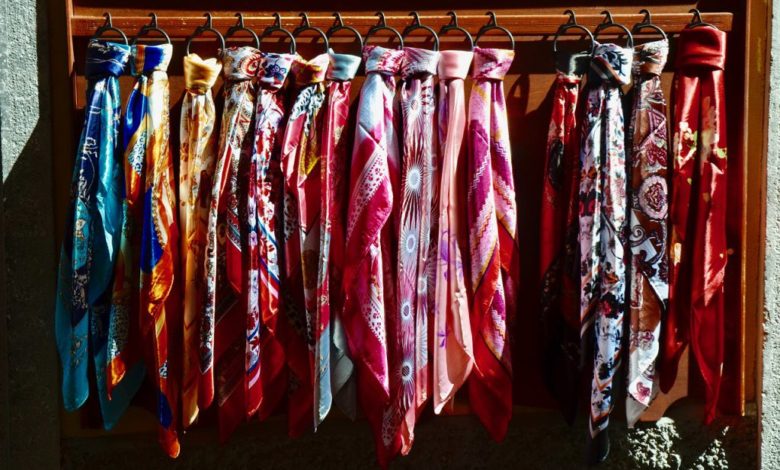 The scarf is a timeless and, above all, essential fashion accessory. If he is among the subscribers absent from your closet, there is always time to remedy this problem and run to the store. It sublimates your outfits, provided you know how to tie them.
After writing you a short article on the subject, we come back with a more complete guide. Here is everything you need to know about the scarf and the different ways to wear it.
Why have a scarf in my closet?

The scarf is not only used to cover your neck when it is a little chilly. This is an all-in-one accessory, which boosts your outfits and refreshes your look. The stylists swear by him. Why? Because the scarf revolutionized fashion in the 1950s.
The Hermès scarf has become a myth. This silk twill scarf quickly took over the streets of Hollywood, around the neck and in the hair of the biggest stars. Today, it has become synonymous with elegance, in tribute to Grace Kelly, and modernity, in honor of Twiggy.
Having a scarf in your closet means being able to reinvent your look every day.
What are the different scarf sizes?
Scarves come in all colors, all patterns and, of course, all formats. Depending on what you want to do with it, choose certain models over others.
Here is a summary of the main formats, available in fashion stores or online:
The small square: this format by 30 or 40cm is ideal for wearing the scarf as an accessory, whether in the hair, around the wrist or close to the neck.
The large square: with dimensions of 70 or 90cm, this format is one of the most manageable and most used.
The big rectangle: today, the rectangle scarf is the most present on the shelves. It can easily be worn as a garment since it allows many folds.
The scarf format: more associated with a shawl or a keffiyeh, this format is perfect around the neck, in winter or in autumn.
How to choose your scarf?
It is recommended to have several scarves that you can take out for any occasion, in any season, and according to each outfit. In cotton or silk, the scarf, like any other garment, is chosen according to your morphology and your tastes. Don't hesitate to try it in-store to see if it's right for you.
Dare to use colors and prints! If it's always useful to have a few scarves in neutral tones, the colorful patterns will make the difference. To boost your cold winter days or to shine in the sun, the printed scarf is remarkably trendy.
Choose colors that suit your complexion.
If you have a tanned complexion, go for warm tones like red and yellow.
For a rosy complexion, favor pastel and light colors.
For a pale complexion, choose darker shades such as pine green, navy blue or cardinal purple.
How to wear the scarf as an accessory?
If stylists love the scarf, it's because it appears as the element that changes everything. You know, that little detail that makes all the difference. The scarf is both a garment and an accessory. It is therefore found in all sauces and from all angles, from our waist to the strap of our bag.
Belt
Few people dare to wear the scarf as a belt. However, over a light dress or at the waist of light jeans, it appears as a real centerpiece. Braided, twilly or tuxedo style, bend your outfits for more elegance and originality.
In jewel
The scarves in the small square format are incredibly handy. Very thin, they can be folded multiple times and quickly form a necklace or bracelet (wrist or ankle). Lately, twilly cuffs have been at the forefront of fashion. Tie your Hermès scarf around your wrist to give more relief and color to your outfit.
In bag
To perfect your bohemian chic style, adopt the scarf in the form of a bag. A few folds, a few knots and voila. Choose floral or ethnic patterns and create your own square bag or maxi-bag. Ideal for shopping days in the city or for walks in the seaside resort!
Now that you've caught up on the art of the headscarf, you have no excuse for not varying your way of wearing it. We hope this fashion guide helped and inspired you. Share with us all your ideas and tips, as well as all your advice in the comments!