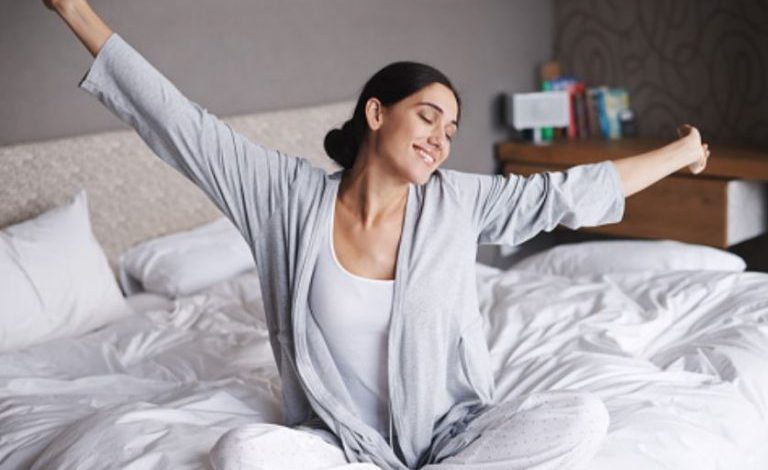 Getting up early 5 good reasons to get started "The world belongs to those who get up early": this is not necessarily the first thing to think about when the alarm rings. The saying goes, however. Overview of the advantages of being a potential early riser!
We have more energy
By getting into the habit of going to bed and getting up at regular times, you can help you sleep. Fatigue appears when your biological rhythm is unbalanced: institute sleep rituals.
It is also advisable to get up at least 1h30 before leaving. You will have time to yawn quietly, shower, have a good breakfast. In short: the ideal recipe for getting up on the right foot and attacking in shape.
In day-off, do not hesitate to get up with dawn, or soon after. Fat mornings are not advised. Also called social jet lag, they unbalance our internal clock compared to our weekly schedule. A survey of 900 adults aged 22 to 60 found that each additional hour of sleep on weekends increased the risk of cardiovascular disease by 11%.
Choose a regular rhythm every day. You will gain longer days off, even if it means cutting off with a 20-minute afternoon nap.
We eat right
Missing breakfast would be a disaster if you want to keep in shape and shape all day. It follows a fasting period of 8 to 12 hours, your body needs to recharge its batteries for energy.
At night, the blood glucose level drops. Eating a good breakfast also allows the brain to maintain concentration and memory. You will be more productive and less prone to snacking until lunch.
Instagram is a good source of inspiration for cooking a queen breakfast. Matcha latte, granola, fresh fruit, smoothie bowls, green teas, vegan pancakes … now is the time to try all the ingredients of a full breakfast that you want.
See : Hatha yoga: what are the benefits?
We take care of his look
Taken aback in the morning, your outfit has nothing to do with the stylish silhouette you had imagined. You already have low morale. When you get up early, you give yourself the option of trying the braided bun you saw on Youtube, launching yourself into a copper-colored smoky-eyes or changing your outfit at the last moment, at first sight.
You can also take care of the choice of your accessories: a floral headband tied in your hair, a fringed shoulder bag for the bohemian touch, an ethnic cuff to pimp a casual outfit… Take the time to feel beautiful, it is above all a benevolent act towards yourself.
The days are longer and less stressful
Some women impress us, they manage to do everything: aqua-biking session, reading, afterworks, top manicure, all before and after a day of work. What if the solution was obvious? Get up early to have longer days.
Go to bed at 10 p.m. and get up at 6 a.m., why not? You could get to work having taken time for yourself, already seen the last episode of your series or made your polish. Nothing will seem unthinkable during your work week.
Getting up early also means starting the day more calmly. With just a few minutes early, no more traffic jams or errands after the bus. You lead a less stressful daily life, your health says thank you.
We go back to sport
The call of the duvet is sometimes tempting. However, getting up early is an opportunity to get into serious sport. Before going to work, you can consider a sporting activity: cycling, jogging, fitness, yoga …
In addition to boosting your morale, you boost your body out of bed. If you are more into indoor sports, nothing prevents you from putting your sports outfit in your fringe bag, before running off to the office!
The hard part is to start, but you will quickly see the benefits. As the Dalai Lama said: "Sow an act, you will reap a habit. Sow a habit, you will reap a character. Sow a character, you will reap a destiny ".